The SDC Permanent Altar Committee has been working for months to develop a series of recommendations regarding the design and composition of a permanent altar for the SDC Dharma Hall and for the statues that would sit atop it. The Committee is comprised of senior practitioners from Sacramento Buddhist Meditation Group (SBMG), Sacramento Insight Meditation (SIM), Valley Streams Zen Sangha (VSZS) and the Sacramento Dharma Center (SDC).
After looking at hundreds of Buddha statues, the Committee recently recommended the purchase of a Theravadan, Burmese Buddha from a gallery in Vermont. The Committee agreed to bring the Vermont Buddha to Sacramento for the express purposes of it being viewed by the Boards and community members of each sangha, and to make a decision about its purchase. The decision needed to be made within a short time window dictated by the terms of a potential purchase agreement.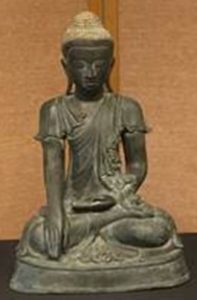 Members of the Committee subsequently and unanimously decided not to purchase, and to return, the Vermont Buddha to its owner. The primary reason for this decision was being informed that the SBMG Board of Directors voted it was not prepared to make a decision at this time.
The Committee has now decided to expand and balance Committee membership by having a total of six (6) members, consisting of one (1) woman and one (1) man representative from each sangha. The newly reconstituted Committee will revisit its mission and plan for the next step in this important project that will shape the feeling and use of the main Dharma Hall for many years to come.